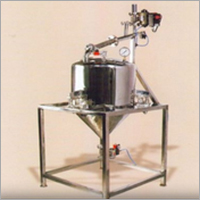 Glucose Handling And Dosing System
Product Description
This Glucose Handling and Dosing System, which can be seen installed in food and confectionery industry. With the utilization of optimum grade of stainless steel offered system is being designed with the help of the advanced technology. Utilization of stainless steel makes the system anti-corrosive in nature. This robustly constructed machinery is used for storing and dosing glucose depending upon the requirement of the plants. This Glucose Handling and Dosing System uses a load cell mounted dosing system where glucose is accurately dosed into more than one product operating system. It is a PLC automated system, which has a completely closed system.

Features of Glucose Handling and Dosing System:

1) It is available with internal heating coil.
2) It is hygienically maintained.
3) Spillage of the liquid glucose is eliminated.
4) It has excellent productivity.