Chemical Dosing Pump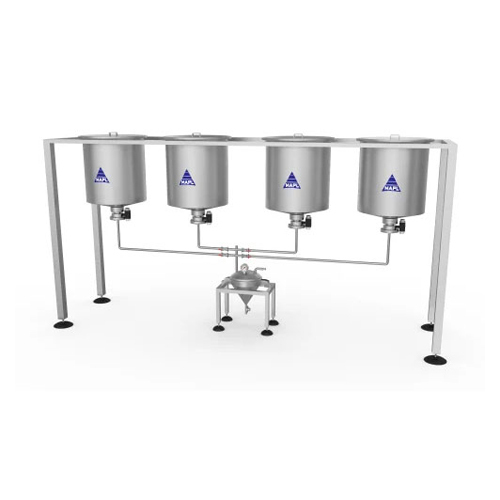 Chemical Dosing Pump
Price And Quantity
Product Specifications
Industrial

Stainless Steel
Product Description
We are one of the leading manufacturers and suppliers of a supreme quality range of Chemical Dosing Pumps that is widely used in water treatment, sewage and other industrial processes. These pumps are made in compliance with predefined industry standards using quality checked raw material and advanced technology. Offered pumps are highly acknowledged for their robust construction and hassle-free performance. Moreover, these pumps are available in various specification with complete range for our esteemed clients.
Chemical Dosing Pump Working Process:
25Kg chemical is loaded into feeders
The feeder is controlled by a frequency drive
The chemical is fed into the foods grade FRP pressure tank, which is mounted on load cell
Adequate amount of water is added
The chemicals are stirred and dispensed into the cookers or mixer using gravity or air pressure
Advantages of Chemical Dosing Pump:
Accurate dosing thereby maintaining consistent product quality
Saving in manpower and higher productivity
100% leak free
Advanced electronic components
Safe and easy priming
Chemical Dosing Pump Applications:
Chemical industry
Food industry
Pharmaceutical industry
Brand Miranda
Model NA
Max Flow Rate NA
Head NA
Chemical Dosing Pump Specifications:
Doses from 0.009 ml/h to over 70,000 l/h
Pressure: up to 50 bar
Temperatures ranging from - 70 to over 300 degree centigrade
FAQs of Chemical Dosing Pump:
Q. What is a chemical dosing pump?
Ans: A chemical dosing pump is a device designed to accurately and precisely deliver a specific quantity of chemical substances into a process or system. It is commonly used in various industries, such as water treatment, wastewater treatment, chemical processing, and pharmaceuticals.
Q. How does a chemical dosing pump work?
Ans: These pumps work by using a reciprocating mechanism to draw in the chemical solution and then discharge it in controlled doses. The pump is equipped with a motor that drives a diaphragm or a piston, creating a pumping action. The flow rate and dosing frequency can be adjusted to meet the required chemical dosage.
Q. What are the types of chemical dosing pumps?
Ans: There are several types of chemical dosing pumps, including diaphragm pumps, piston pumps, peristaltic pumps, and solenoid-driven pumps. Each type has its specific applications and advantages.
Q. What are the key factors to consider when choosing a chemical dosing pump?
Ans: When selecting a this pump, consider factors such as the required flow rate, the type of chemical being dosed, the pressure range, the accuracy and repeatability of dosing, the chemical compatibility of pump materials, and the overall system requirements.
Q. How accurate are chemical dosing pumps?
Ans: These pumps are designed for high accuracy and repeatability, with typical accuracy rates of around plus minus 1% to plus minus 3%. However, this may vary depending on the pump type, brand, and specific application.
Q. Can chemical dosing pumps handle hazardous chemicals?
Ans: Yes, many chemical dosing pumps are designed to handle hazardous and corrosive chemicals. It is essential to select a pump made from materials that are compatible with the specific chemicals being used to ensure safety and longevity.
Q. How do I calibrate a chemical dosing pump?
Ans: Calibrating a chemical dosing pump involves adjusting its settings to ensure the correct dosage. The calibration process varies depending on the pump type and manufacturer. Generally, it involves measuring the delivered volume and comparing it to the desired dosage, then making adjustments as necessary.
Q. Can chemical dosing pumps be automated?
Ans: Yes, these pumps can be integrated into automated systems using controllers or programmable logic controllers (PLCs). Automation allows for precise and consistent dosing, minimizing human intervention and reducing the risk of errors.
Q. How do I maintain a chemical dosing pump?
Ans: Regular maintenance is essential for the proper functioning of a chemical dosing pump. This includes inspecting and cleaning the pump components, checking for leaks, replacing worn-out parts, and ensuring the pump remains calibrated.
Q. What safety precautions should I follow when using chemical dosing pumps?
Ans: When handling chemical dosing pumps and chemicals, follow all safety guidelines provided by the pump manufacturer and the chemical supplier. Wear appropriate personal protective equipment (PPE), work in a well-ventilated area, and take necessary precautions to avoid contact with hazardous substances.