Caramel Preparation System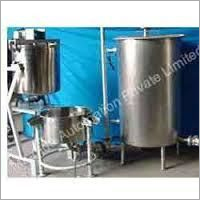 Caramel Preparation System
Price And Quantity
Piece/Pieces

45000000.00 - 10000000.00 INR
Product Description
We have earned an immense good will in the market by manufacturing, exporting and supplying a quality assured array of durable stainless steel Caramel Preparation System. Offered system is manufactured at our highly developed production unit with the use of an excellent quality components and sophisticated techniques. Admired for flawless operation, this is extensively demanded in food & beverage industries for providing brownish color to various bakery products like bread, cakes, biscuits etc. In addition to this, the provided durable metal Caramel Preparation System can be availed from us at marginal prices.
The Caramel Preparation machine is used for adding caramel in various bakery products such as bread, cakes, biscuits, colas, peanuts, chikki and many other food items. Caramelization is the process of melting and boiling sugar at high temperature. This process converts sugar into fructose and glucose. The process takes place between 110 deg. C - 180 deg. C temperatures that depends upon the type of sugar. Commercial caramelisation is done by heating sugar in combination with other ingredients. This results in the caramels of different colors, which further can be used as additives to food.
Applications: Confectionery industry Food processing industry.
Caramel Preparation Machine Features:
Robust design
Flawless operation
Optimum efficiency
Low fuel requirement
FAQs of Caramel Preparation System:
Q. What is a Caramel Preparation Machine?
Ans: A Caramel Preparation Machine is a specialized piece of equipment designed to automate and streamline the process of making caramel. It is used in commercial kitchens, bakeries, and confectioneries to produce large quantities of caramel consistently and efficiently.
Q. How does the Caramel Preparation Machine work?
Ans: The machine typically consists of a heating element, a mixing mechanism, and a control panel. The sugar and other ingredients are added to the machine, and the heating element melts the sugar while the mixing mechanism ensures uniform heating and prevents burning. The control panel allows the user to set the desired temperature and mixing speed, making it easy to customize the caramel-making process.
Q. What are the advantages of using a Caramel Preparation Machine?
Ans: Using a Caramel Preparation Machine offers several benefits, including:
Time and labor savings: The machine automates the caramel-making process, reducing the need for manual labor.
Consistency: The machine ensures consistent results every time, avoiding variations that can occur with manual preparation.
Safety: The machine is equipped with safety features to prevent accidents and mishaps during the caramel-making process.
Q. Can the Caramel Preparation Machine handle different types of caramel?
Ans: Yes, most Caramel Preparation Machines can handle various types of caramel, such as soft caramel, hard caramel, and flavored caramel. The user can adjust the machine settings to achieve the desired consistency and flavor.
Q. Is the machine easy to clean and maintain?
Ans: Yes, most machines are designed with ease of cleaning and maintenance in mind. They often have detachable parts that can be easily cleaned, and some may even have self-cleaning functions.
Q. What safety features are typically included in the machine?
Ans: Caramel Preparation Machines usually come with safety features such as automatic shut-off to prevent overheating, emergency stop buttons, and safety interlocks to protect the user from accidents.
Q. Can the machine be used for other purposes besides caramel preparation?
Ans: While the primary purpose of the machine is caramel preparation, some models may be versatile enough to handle other confectionery tasks like making fudge, toffee, or butterscotch.
Q. What capacity options are available for the Caramel Preparation Machine?
Ans: The capacity of the machine can vary depending on the model and manufacturer. Some machines are designed for small-scale production, while others can handle larger quantities.
Q. Is training required to operate the Caramel Preparation Machine?
Ans: Operating the machine is generally straightforward, but some basic training is recommended to ensure safe and efficient use.
Q. Where can I purchase a Caramel Preparation Machine?
Ans: You can buy a Caramel Preparation Machine from various commercial kitchen equipment suppliers, online marketplaces, or directly from the manufacturers.