Biscuit Making Machine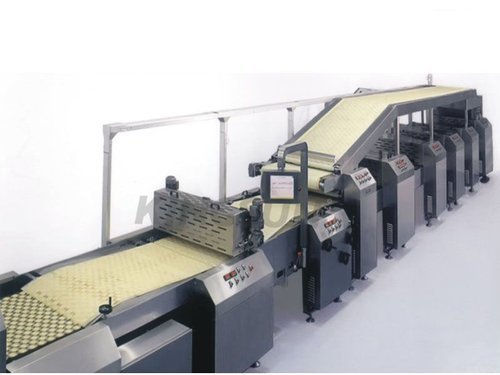 Biscuit Making Machine
Price And Quantity
Piece/Pieces

45000000.00 - 10000000.00 INR
Product Specifications
Biscuit Making Machine

It is used for making biscuits
Stainless Steel

Automatic Confectionery Machine
Good Quality High Efficiency Low Energy Consumption High Speed

Gray
Product Description
We are considered to be one of the most prominent manufacturer and supplier of a wide array of durable heavy duty Biscuit Making Machines. This product range is made by our adroit professionals using the superlative quality raw materials and advanced technologies in compliance with the industrial quality standards. Durable metal Biscuit Plant Machinery offered by us is widely used in confectionery, dairy & food processing units for mixing dough especially for bread, biscuits and cookies.
We are indeed pleased to provide our wide range of biscuit plant machinery, which is required to cut and make biscuits in coveted shaped from the sheet of dough provisioned by gauge/sheeter rollers. The sheet of dough is made from soft sweet or fermented dough.
Our Automatic Biscuit Makers are empowered by dual cutting roll apparatus where one is utilized for making impressions while others are used for trimming for hassle free and superlative quality production with choice to use both or single cutting rolls. In dual roll cutting machinery the top surface of the biscuit or cookie stays more soft, leveled and smooth as juxtaposition to the unit of single cutting roller. Besides, the production stays untroubled due to the non-choking of die.
Biscuit Making Machine Features:
1. Low operational cost
2. High product quality
3. Excellent productivity rate
4. Minimal wastage
Biscuit Maker Specifications:
1. Standard cutting web of cleaning/scrapping and damping.
2. Between before cutting and gauge rolls, there are air blowers that is completely optional.
3. Aerial part of tracking regulate with independent speed regulations (V.F.D.)
4. Individual speed regulation for cutting tolls and web for precise and smooth cutting.
5. Clean pick-up comes with cross conveyor.
6. Distinctive pace regulate with swiveling sort panner web.
7. Integrate CAS-CADE power system for complete line downstream and upstream speed adjustments.
FAQs of Biscuit Making Machine:
Q. What is a biscuit making machine?
Ans: A biscuit maker is an industrial or commercial-grade equipment designed to automate the process of producing biscuits or cookies. It can mix ingredients, shape the dough, and bake or cook the biscuits in large quantities, thereby increasing production efficiency.
Q. What are the main components of a biscuit making machine?
Ans: Typically, a biscuit making machine consists of a dough mixer, dough sheeter or laminator, rotary cutter or wire-cutter, baking oven, cooling conveyor, and sometimes a packaging unit. These components work together to produce biscuits in a continuous or semi-continuous process.
Q. How does a biscuit making machine work?
Ans: The process begins with the dough mixer, where the ingredients are combined and mixed to form the biscuit dough. The dough is then passed through a dough sheeter, which flattens it to a desired thickness. After that, the dough is cut into various shapes and sizes using rotary cutters or wire-cutters. The cut dough pieces are then baked in the oven at a controlled temperature and time. Finally, the baked biscuits are cooled on a conveyor and can be sent for packaging.
Q. What types of biscuits can be produced using these machines?
Ans: Biscuit making machines are versatile and can produce a wide range of biscuits, including plain biscuits, cream biscuits, sandwich biscuits, cookies, crackers, and more. The shape, size, and texture of the biscuits can be customized according to the machine's specifications.
Q. What are the benefits of using a biscuit making machine?
Ans: Using a biscuit making machine offers several advantages, such as increased production efficiency, consistent product quality, reduced labor costs, improved hygiene and cleanliness, and the ability to scale production to meet market demands.
Q. What are the different capacities of biscuit making machines?
Ans: Biscuit making machines come in various capacities, ranging from small-scale machines suitable for bakeries to large-scale industrial units capable of producing thousands of biscuits per hour. The capacity of the machine will depend on factors such as the size of the baking oven, the speed of the conveyor, and the cutting mechanism.
Q. How do I maintain a biscuit making machine?
Ans: Regular maintenance is essential to keep the biscuit making machine in optimal condition. Cleaning and sanitizing the equipment after each production run, checking and replacing worn-out parts, lubricating moving components, and following the manufacturer's maintenance schedule are some of the key maintenance practices.
Q. Are biscuit making machines easy to operate?
Ans: Biscuit maker machines are designed with user-friendliness in mind. While some training may be required for operators, the machines typically have intuitive controls and instructions for smooth operation.
Q. Can biscuit making machines be customized for specific recipes?
Ans: Yes, many biscuit maker machines can be customized to accommodate different recipes, shapes, and sizes of biscuits. Manufacturers may offer additional attachments or adjustments to suit specific production requirements.