Bakery Continuous Mixer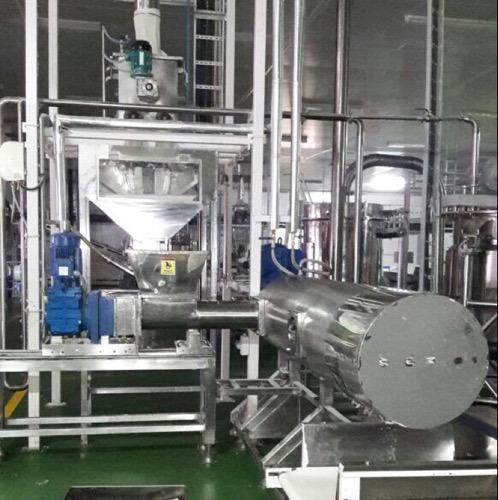 Bakery Continuous Mixer
Price And Quantity
Piece/Pieces

100000.00 - 1000000.00 INR
Product Specifications
Product Description
The Bakery Continuous Mixer is used for mixing hard dough and soft dough for cookies and tea biscuits. It is an automatic mixer that supports continuous production of various bakery products. The mixer operates with gravimetric / volumetric / incremental dosing through pre-mixing /creaming to the final mixing. The mixer runs on continuous feeding system.
Bakery Continuous Mixer Components:
Pre-creaming section Cream holding/dozing section Flour dosing section Main mixing chamber Conveyor section.
Advantages of Bakery Continuous Mixer:
Reduction in manpower and wastage of packaging material Savings in power & fuel consumption and in cost of dough production No standing time for dough Improvement in hard/soft biscuit (cookies), bread, asian chapatti, tortilla Reduction in line weight variation and expensive ingredients such as fat, sugar, chemicals, rising agent Minimum dough wastage Increase in productivity, packing efficiency and biscuit stack height Instant start and stop of the plant is possible Reduction in floor space and building investment Skid mounted systems reduces installation and commissioning time Trouble free and smooth operation results in stress free supervision.
Applications of Bakery Continuous Mixer:
Agro Industry (Fertilizers, pesticides, etc.) Plastic Industry (Premix and dosing for plastic extrusion) Chemical Industry (For polymerization reaction and condensation reaction) Adhesive Industry (Manufacturing sealing compounds, Dough for putty adhesive) Paint Industry (Premix) Cement Industry (Pre-blending of dry powders) Pharmaceutical Industry (Formulation of ointments, creams and gels).
Bakery Continuous Mixer Features:
Easy to clean and maintain
High product quality
Compact design
Simple and fast in operation
FAQs of Bakery Continuous Mixer:
Q. What is a Bakery Continuous Mixer?
Ans: A Bakery Continuous Mixer is a specialized piece of equipment used in commercial bakeries to continuously mix dough ingredients. It automates the mixing process, allowing for a consistent and efficient production of bakery products.
Q. How does a Continuous Mixer work?
Ans: Bakery Continuous Mixers operate on a continuous process, meaning that dough ingredients are fed into the mixer continuously, and the mixed dough is continuously discharged. The mixer consists of rotating agitators and stationary blades that knead and blend the ingredients together.
Q. What are the advantages of using a Continuous Mixer in a bakery?
Ans: Continuous Mixers offer several advantages, such as increased productivity, consistent dough quality, reduced labor costs, and efficient use of ingredients. They also enable bakeries to handle large production volumes.
Q. Can Continuous Mixers handle various types of dough?
Ans: Yes, most Bakery Continuous Mixers are versatile and can handle a wide range of dough types, including bread dough, pizza dough, pastry dough, and more. The mixer's adjustable settings allow bakers to achieve the desired consistency for different products.
Q. What maintenance does a Continuous Mixer require?
Ans: Regular maintenance is essential to keep the mixer operating at its best. Maintenance tasks may include cleaning, greasing, inspecting belts and bearings, and checking for wear and tear. Specific maintenance schedules can vary depending on the model and manufacturer, so it's important to follow the provided guidelines.
Q. Are Continuous Mixers easy to clean?
Ans: Many modern Continuous Mixers are designed with easy-to-clean features, such as removable parts and accessible surfaces. Proper cleaning is crucial to prevent cross-contamination and maintain product quality.
Q. Can Continuous Mixers be adjusted for different batch sizes?
Ans: Yes, most Bakery Continuous Mixers have adjustable settings, allowing bakers to scale the batch size according to their production needs. This flexibility makes them suitable for both large-scale and small-scale bakeries.
Q. What safety precautions should be taken while operating a Continuous Mixer?
Ans: Operators should receive proper training before using the mixer. They should wear appropriate safety gear, such as gloves and safety goggles. The mixer's safety guards should be in place during operation, and operators should never reach into the mixer while it's running.
Q. Are Continuous Mixers energy-efficient?
Ans: Bakery Continuous Mixers are designed with energy efficiency in mind. Some models may have variable speed settings or other energy-saving features to reduce power consumption during operation.
Q. How do I choose the right Continuous Mixer for my bakery?
Ans: When choosing a Bakery Continuous Mixer, consider factors such as your bakery's production volume, the types of dough you'll be mixing, available space, and budget. It's essential to research different models, read reviews, and consult with manufacturers or suppliers to find the best fit for your specific needs.
Trade Information
Cash Against Delivery (CAD) Cash on Delivery (COD) Letter of Credit (L/C) Western Union Paypal Letter of Credit at Sight (Sight L/C) Delivery Point (DP) Telegraphic Transfer (T/T) Days after Acceptance (DA) Cash in Advance (CID) Cheque Cash Advance (CA)

10 Per Month