Biscuit Making Machine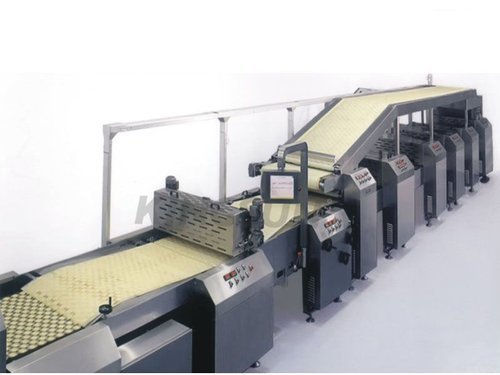 Biscuit Making Machine
Product Description
We are considered to be one of the most prominent manufacturer and supplier of a wide array of durable heavy duty Biscuit Making Machines. This product range is made by our adroit professionals using the superlative quality raw materials and advanced technologies in compliance with the industrial quality standards. Durable metal Biscuit Plant Machinery offered by us is widely used in confectionery, dairy & food processing units for mixing dough especially for bread, biscuits and cookies.
Biscuit Making Machine Features:
1) Low operational cost
2) High product quality
3) Excellent productivity rate
4) Minimal wastage
We are indeed pleased to provide our wide range of biscuit plant machinery, which is required to cut and make biscuits in coveted shaped from the sheet of dough provisioned by gauge/sheeter rollers. The sheet of dough is made from soft sweet or fermented dough.
Our Automatic Biscuit Making Machines are empowered by dual cutting roll apparatus where one is utilized for making impressions while others are used for trimming for hassle free and superlative quality production with choice to use both or single cutting rolls. In dual roll cutting machinery the top surface of the biscuit or cookie stays more soft, leveled and smooth as juxtaposition to the unit of single cutting roller. Besides, the production stays untroubled due to the non-choking of die.
Specifications:

1) Standard cutting web of cleaning/scrapping and damping.
2) Between before cutting and gauge rolls, there are air blowers that is completely optional.
3) Aerial part of tracking regulate with independent speed regulations (V.F.D.)
4) Individual speed regulation for cutting tolls and web for precise and smooth cutting.
5) Clean pick-up comes with cross conveyor.
6) Distinctive pace regulate with swiveling sort panner web.
7) Integrate CAS-CADE power system for complete line downstream and upstream speed adjustments.
Technical Details:
Capacity: 40-500 Kg per hour
Design Type: Standard
Voltage: 380V